Gwanggyo, near Kyonggi University, is a new housing development that features a gorgeous city design. Pharos will introduce two cafes in high rise buildings where you can view the entire landscape of Gwanggyo at a glance. Both cafes are very conveniently located near Gwanggyo Jungang Station, which Kyonggi University students can easily access. Here is how you can explore the cafes that have nice views near the school.
Telon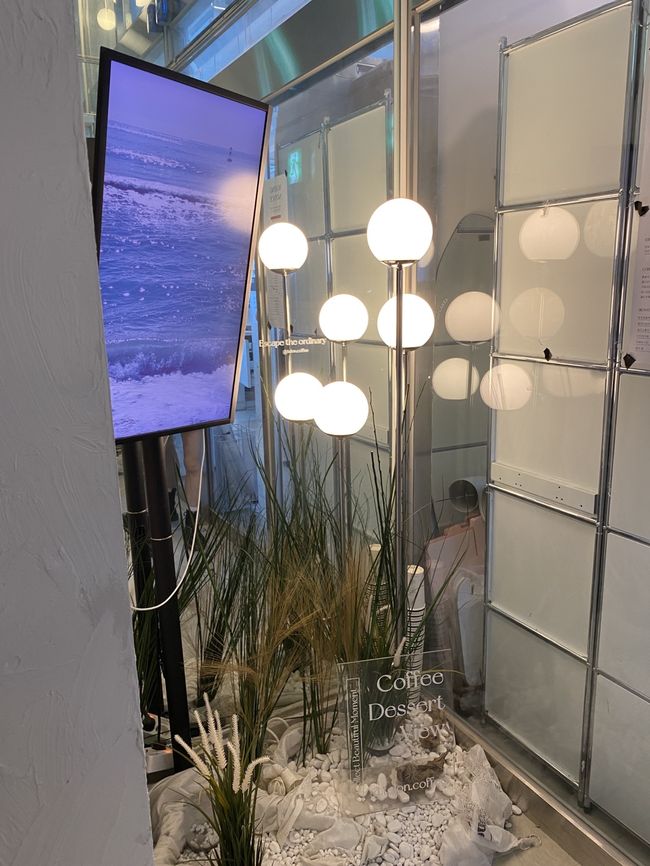 - Location: Gwanggyo SK VIEW Lake Tower Office Tower A – 37th floor, 25, Beopjo-ro, Yeongtong-gu, Suwon-si, Gyeonggi-do
- Business Hours: Weekdays 10:00~22:00 / Weekends 12:00~22:00 (Last order - 21:00)
Telon is a cafe located on the 37th floor of Gwanggyo's SK View Lake, offering a cinematic view of Gwanggyo Lake. The cafe has a small interior and big windows so you can enjoy the beautiful Gwanggyo landscape from any seat. The cafe's interior, designed to appeal to Generation Z, has very interesting photo zones starting from the entrance. The beautiful view is the main attraction of this place but it also offers various kinds of drinks and desserts. The menu includes espresso, basic coffee, signature coffee, and non-coffee drinks. Unlike other cafes, Telon's advantage is that it carries a variety of food. The menu even includes various desserts, including jam bong pie, which is hard to find in Korea. Reporters drank the signature drinks, salty chocolate and nutty caramel, and both the design and taste were excellent. For dessert, we had Oh, Berry Crumble, and chocolate smore cake. The desserts are sweet, so we recommend pairing them with a less sweet beverage. An additional advantage is the availability of decaffeinated coffee beans on the coffee menu.
Perfect Spot Recommendation
Pharos recommends a location right in front of the cafe counter which is a window seat where you can see the whole view of Gwanggyo. The table is a little bit small, but you can enjoy the view while eating delicious desserts.
Photo Zone
1) The cafe placed two white chairs by the window. This is the main photo zone at Telon. You can take a nice full-length photograph with a nice view of Gwanggyo.
2) An iMac is placed right next to the selfzone where water and tissues are placed so that you can take pictures with the computer's camera application. You can take Instagrammable pictures in various poses.
Reporter Kim Daon's Short Review: The interior, desserts, the iMac's camera, and other places are right up the Instagram vibe. I recommend this place if you want to enjoy sweet desserts while looking at the high-rise view.
Reporter Lee Hyeon Seo's Short Review: This place might feel a little bit small, but it stimulates Gen-Z vibes. Various photo zones are formed in the cafe so that people can take nice pictures. It is recommended for people who like to take Instagrammable pictures. There are various items on the menu, so if you want to taste new drinks and desserts, I recommend Telon.
Starbucks Gwanggyo SK VIEW Lake 41F
- Location: Gwanggyo SK VIEW Lake Tower Office Tower A – 41st floor, 25, Beopjo-ro, Yeongtong-gu, Suwon-si, Gyeonggi-do
- Business Hours: 07:00~23:00
Starbucks Gwanggyo SK VIEW Lake 41F opened in May of this year, and it is the second-highest Starbucks in Korea after BUSAN X The Sky on the 99th floor. It is the highest among Starbucks stores in the capital area. As the store is located on a high floor, the biggest feature here is that you can see Gwanggyo Lake Park and the whole of Gwanggyo city at just one glance. For this reason, many people arrive in the early hours to get good seats. There are more customers taking photos than in other Starbucks. It is easy to find people going to the outdoor observatory on the terrace here and taking pictures. The menu is the same as any other Starbucks.
Perfect Spot Recommendation
Wide open views are in all directions, so you can see the entirety of Gwanggyo from most of the seats. However, among them, we recommend the seat where you can see Gwanggyo Lake Park located in front of the big window in the center of this cafe. If you need an outlet, the seat right behind it would be the perfect spot for you.
Photo Zone
1) There is an outdoor observatory for looking at the view, so if you can't have our recommended seat, you can see the beautiful scenery and take a picture of it. There are no seats on the outdoor observatory.
2) The scenery during the day is good, but the night view in the evening is also wonderful. The skyline, park lights that change into fancy colorful lights, and streetlights on the surrounding roads harmonize to create a wonderful scenery. Therefore, if you wait until evening and take a picture at the recommended place with the night view, you can get a nice picture.
Tips for Getting Seats
When we first visited these two cafes at around 2 p.m., there weren't many seats available. After visiting again around 5 p.m., there were more seats than before. It is always crowded with customers, but especially so during lunchtime. If you visit just before dinner time or close to closing time, you can get a wide-open choice of seats.
Reporter Kim Daon's Short Review: It is so crowded but also worthwhile due to its unmatched view of Seokchon Lake. If you are here for a date in the suburbs, I recommend this place.
Reporter Lee Hyeon Seo's Short Review: This is a place with a large interior and a large window. It is a crowded place, but it is not that complicated for weekend visits because of the large area that accommodates a large number of people. It is not that difficult to have a seat to watch the view, so you should visit with your family, friends, and lovers and enjoy the scenery. Visit around sunset to see the bright scenery and a city view all at once.
---
Both cafes have their own traits, so we hope you have the chance to visit a cafe that suits your taste. Typically the cafes we use on a normal day are located on the first floor, so it is hard to see the wide city view. Why don't you make special memories with your favorite people in these special spaces? Both cafes take about 15 minutes from Gwanggyo Central Station exit 4, and if you take a bus at the Gwanggyo Jungang Wide Area Transfer Center, it only takes about 5 minutes. Also, if you take a bus from the back gate of Kyonggi University, it takes about 10 minutes to the bus stop in front of the cafe. Both cafes are easy to visit, so we recommend you to visit either one.
Planning & Marketing Editor • KIM DA ON • daonda0904@naver.com
78th Reporter • LEE HYEON SEO • zzhs00@naver.com